The red sightseeing buses Hop-On Hop-Off are a double-decker transport. It is a perfect way to see the city at your own pace and get information about its attractions. Hop-on Hop-off bus in Amsterdam is paired with canal boats, adding a new experience to the bus tours.
What are Hop-On Hop-Off Bus Tours and how does it work?
Hop-On Hop-Off Bus Tours are sightseeing tours along predetermined routes on large double-decker buses. When locals and foreigners want to get to know a big city in a very short time – literally in a few hours or a day – they always take a ticket for the Hop-On Hop-Off bus.
How it works
You buy a ticket valid for 24 hours or 48 hours, and during this time you are free to use buses or Hop-On Hop-Off boats. At any stop you can get off, walk, and then take the next Hop-On Hop-Off bus. Buses run every 15-20 minutes.
Along with the ticket, you will be given a booklet containing all the routes and stops at attractions. The booklet also says about the discounts that the Hop-On Hop-Off ticket gives, and which excursion you can visit for free.
When you board the bus/boat for the first time, you will be given headphones that you need to insert into a special jack in the bus to listen to the audio guide. You can take any seat on the bus. If the weather is good, go to the second floor.
How to buy a ticket
You can buy Hop-On Hop-Off tickets in Amsterdam either on the spot at one of the stops, or on the official website, or through aggregator sites. The price on the official website and on aggregators is often the same, but buying on the website will be more profitable for two reasons:
You can take advantage of the invitation discount if you are not yet registered on the site.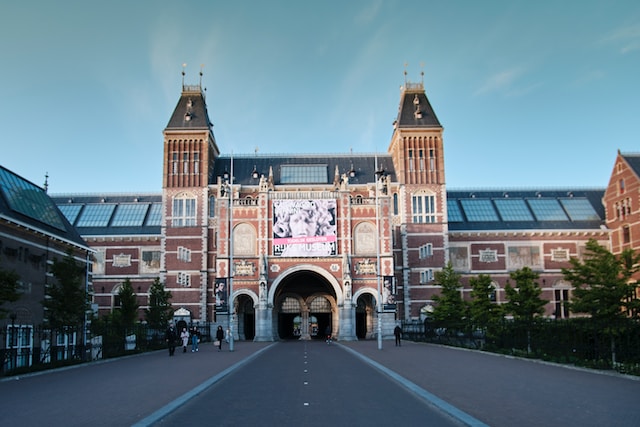 Some sites allow you to pay for tickets in many currencies directly without conversion. On the official website, payment is only possible in euros, i.e. your bank will additionally charge you a commission for paying in a foreign currency.
There are four types of Hop-On Hop-Off passes:
combo tickets for bus + boat for 24 hours;
combo bus + boat tickets for 48 hours;
bus ticket for 24 hours;
boat ticket for 24 hours.
Bus schedule City Sightseeing Amsterdam
The bus moves along the red route, boats – along the blue and green routes (in winter, only the green route is valid). The interval between buses is 15-20 minutes, for boats on the green line – ~35 minutes, for boats on the blue line – 20-25 minutes.
Do not deny yourself the pleasure of exploring the city of your dreams from a beautiful and comfortable place, which is also a very profitable way to spend your excursion.