When planning a trip to Amsterdam, it's essential to be aware of the weather conditions. They can be unpredictable, especially during seasons with frequent rain.
For a dry and comfortable trip, consider visiting during spring or autumn. These months tend to be sunny and dry, making them ideal for taking day trips outside the city or strolling along the waterfront.
Winter
Amsterdam is an idyllic winter wonderland, especially when the temperatures are mild. The canals sparkle with twinkling lights, streets are lined with festive markets and restaurants serve up warm dishes that will warm you right up. Plus, The Netherlands hosts the popular Winter Festival Amsterdam festival from late December through early January that draws thousands of visitors each year.
At Willet-Holthuysen House in Amsterdam, you can experience how the wealthy Dutch celebrated Christmas by visiting its impressive decorations. Additionally, don't miss the World Christmas Circus (known as Wereldkerstcircus) featuring acrobats, white horses and trapeze artists!
Amsterdam experiences colder temperatures during wintertime, with highs that can reach 10 degC (50 degF) and lows dropping down to -13 degC (9 degF). This is partly due to its proximity to a large body of water which makes it especially vulnerable to cold waves.
Precipitation in Amsterdam tends to be moderate during winter months, with an average rainfall of 80mm (3.1 in). There's also a good chance of snowfall during this time, which can make for stunning sights as the city becomes completely covered in white.
Amsterdam Light Festival – an annual holiday activity that attracts millions of visitors – is one of the city's most beloved holiday activities. Enjoy this charming display of illuminated structures throughout the city for a memorable evening, especially if you are traveling with kids!
For the best views of illuminated canals, take a cruise. Alternatively, you can stroll or cycle along them.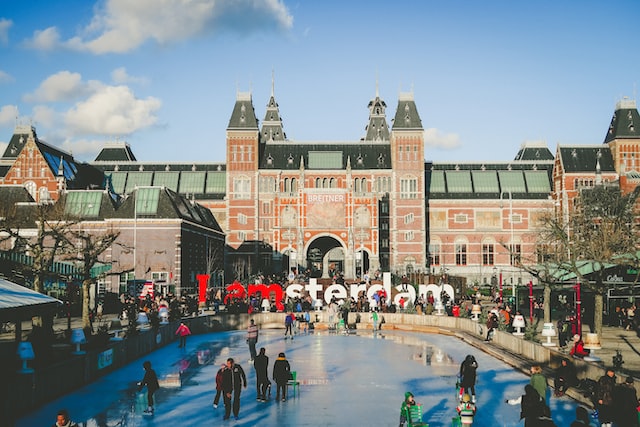 If you're traveling to Amsterdam during the winter, be sure to pack a sweater or jacket just in case it gets cold. Additionally, bring gloves and a hat just in case.
In Amsterdam during wintertime, you can usually count on getting two hours of sunlight each day. However, the length of these days varies considerably throughout the year; with the shortest day occurring in December and longest being June.
Spring
Spring in Amsterdam is an enchanting time of year to visit. The weather is slightly dryer and the flowers are in full bloom, making it the ideal time for a day spent exploring Keukenhof tulip fields or biking through surrounding countryside.
Though temperatures in Amsterdam remain cool during springtime, they're not necessarily below zero and you can usually count on getting plenty of sunny days – particularly if you visit in May or June. Rain showers may occur occasionally but it rarely turns into a heavy downpour.
There are also some stunning events to enjoy during this period, such as the Flower Auction at De Bijenkorf and the Dutch Open Golf tournament. However, these can get very popular so if you plan to attend one of these events be sure to book your place in advance.
April is an ideal time to experience Amsterdam's blossoming season, with many of its tulip fields opening in mid-March and remaining in bloom until May. Additionally, this charming city offers some of the most affordable rates of the year to visit; hotels and attractions often provide reduced rates or discounts.
April in Amsterdam is an especially lovely time to explore the city. The canals are adorned with vibrant flowers and you can find plenty of quaint cafes along the way where you can sit back, relax, and watch life go by.
If you're exploring the city's parks and gardens, be sure to bring comfortable walking shoes. Additionally, a light jacket will keep you warm if temperatures drop down to around 4 or 5 degrees Celsius in the evenings.
For a fun family day out with the kids, try visiting in June when temperatures are much warmer. This is an ideal time for bike rides in Vondelpark or picnics by the beach in Zandvoort.
June typically brings temperatures ranging from 8 to 17 degrees Celsius during the day. Although it can be damp and windy, you can avoid much rain by wearing a lightweight jacket or hat.
Summer
Summer in Amsterdam offers pleasant temperatures and plenty of outdoor events. July and August are the warmest months, with average temperatures around 22 degrees Celsius (70 degrees Fahrenheit).
Summer days tend to be sunny and warm, but rain and wind are likely to come through from time to time. To protect yourself from these elements, it's wise to pack several layers of clothing. Additionally, evenings can get chilly so bringing along a light jacket is recommended.
Spring: The Netherlands is renowned for its beautiful tulips, making this time of year an ideal time to visit. Enjoy vibrant colors and warmer temperatures as you explore the city or venture out on day trips.
June: June's climate is the ideal combination of summer and autumn, with sunny, dry days and cool nights. However, this period can also be popular for tourists so it's wise to book ahead and be prepared for the crowds.
September: September brings cooler temperatures than August, with daytime highs reaching up to 14 degrees Celsius (57 degrees Fahrenheit). There are numerous festivals taking place during this month, making September a popular time to visit Amsterdam.
October: October's weather tends to be more variable than September, with more rain than normal for this time of year. On average, rainfall in October amounts to 2.6 inches (68 millimeters), and most showers are brief and quickly over.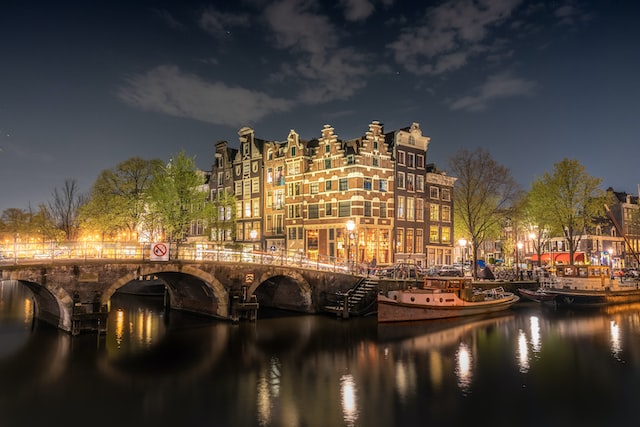 Winter: While winters in Holland tend to be cold and windy, temperatures rarely dip below freezing. Although it can get a little gray and dreary during December and January, you'll still be able to enjoy outdoor activities without feeling too chilled. Furthermore, it's an ideal time to view the Dutch countryside since traffic levels aren't quite as high as during summer.
Traveling to Amsterdam during wintertime is ideal, when prices are low and conditions remain quiet. You can still see all of the major sights without breaking your budget, plus you'll have some free time before peak tourist season starts up again.
Fall
Autumn in Amsterdam is one of the most picturesque times to visit the city. Trees lining the canals begin changing colors, and the air has a crispness that makes it feel cozier and welcoming than ever before.
Amsterdam's weather during the fall season can be chilly, but that doesn't stop you from taking advantage of some of its top attractions and activities. Just remember to bring along some warm clothing as temperatures may drop significantly at night.
September is one of the best months to visit Amsterdam during the autumn, offering festivals, fewer tourists and low-season rates on accommodations and flights. Plus you'll find some great deals on tickets for top attractions like Anne Frank House – making this a great time for sightseeing!
If you're visiting Amsterdam in September, don some layers and don a rain hat. The wind may be chilly so bring along a lightweight jacket just in case.
October brings with it mild temperatures throughout the city, with average highs and lows ranging from 14degC to 8degC. On average, rainfall totals 84mm with nine rainy days expected.
For the first half of the month, expect some sunny, clear and cloudy days. To be prepared, it's wise to bring along a rain coat or umbrella as there is an average 36% chance of raining or snowing on any given day with rainfall averaging 0.31 inches (78 mm).
Spring in the Netherlands is an ideal time for those searching for tulips. The flowering season typically starts around mid-March and lasts until early May, with April being the best month to witness them in full bloom.
Experience Amsterdam's countryside at its most picturesque, especially the iconic Amsterdamse Bos forest. The orange-hued trees make for stunning photo ops in this time of year.
You'll also notice that the weather is usually dryer in autumn, making this an ideal time for outdoor activities like bike riding, canal boat tours and visiting Keukenhof Gardens' tulip fields.